Go Back
ONE TEAM, ONE MISSION. KNOCKHILL RACE REPORT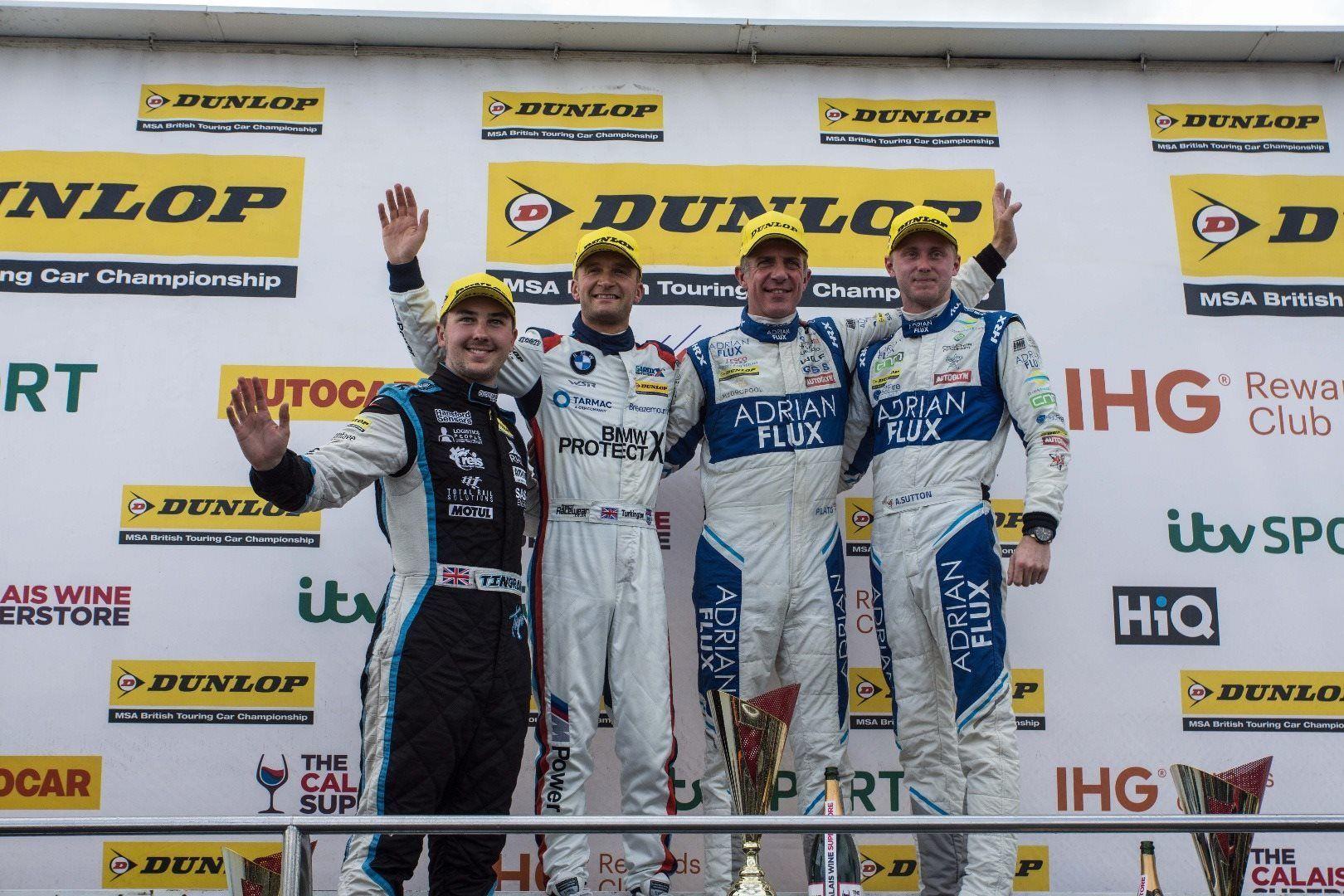 Photos by Phil Laughton Photography
Knockhill race weekend was one of pure class and true teamwork from Adrian Flux Subaru Racing as the team pulled together to ensure that maximum points were scored. Jason returned to true form taking a win and a second place, Ash shone yet again mirroring his teammates podium finishes, James had his best weekend to date with three fifth place finishes and A-Plan Academy backed Josh demonstrated his pace and strength at the circuit that favoured our four Subaru Levorg's.
Race day was one that we were all looking forward to knowing that we were in a great position to grab a good haul of points at the rear wheel drive favoured circuit.
Race one was a great start to the day with Jason taking his 96th career win, leading the race from the start, gaining a point in the process from qualifying, with Ash on his tail throughout which saw them hold off the BMW's of Colin Turkington and Rob Collard with the top four cars being separated by less than a second. There was a brief switch of positions between Jason and Ash in a bid to score a bonus point for leading a lap, which may prove vital for Ash at the end of the championship. Unfortunately, the plan didn't quite come to fruition as although Ash passed Jason it was just after the timing line at the start of the last lap, and you need to be in front when you cross the line. With Ash being a man of his word and sticking to the pre-arranged plan, he handed the place back to Jason for a very worthy win, his first of 2017. James drove his best race to date, showing his worth with a great battle with Tom Ingram, that saw the move at the half way point of the race making it three Subaru Levorgs in the top five. Josh had a shaky start to the race after contact from Matt Simpson which saw him drop all the way down to 30th position, but he fought back with a vengeance and carved his way back up the order to eventually take an 18th place finish.
The double podium 1-2 finish meant a manufacturer win for Subaru UK with Managing Director Paul Tunnicliffe collecting another trophy to add to their collection back at their headquarters in Coleshill.
Race Two wasn't as plain sailing as we saw a multi-car pile up at the outset which was followed by a lengthy stoppage to recover the stricken cars which resulted in no fewer than five cars retiring from the race.
Once the race restarted Jason led with Ash on his tail where they held their positions until lap 11 when Ash made the move taking the lead with the duo coming home with another 1-2 finish albeit in the reverse order from earlier for Adrian Flux Subaru Racing as Jason acted as wingman to protect the title protagonist Ash from the looming BMR pairing. James excelled once again to hold onto his starting position of 5th whilst defending from the Honda of Gordon Shedden. Josh showed yet another stunning performance after he carved his way through the field from 18th on the grid to cross the line in a staggering 7th place and taking the Jack Sears Trophy win in the process. Once again Subaru added to their trophy cabinet with another manufacturer win.
Unfortunately, post-race we were informed that Josh had been excluded from the race two results for failing to respond to flag signals, a decision that was appealed by BMR Racing but was rejected by the officials.
Race three was another race plagued by safety car incidents and once again the Subaru pilots drove a great final race of the day which showed remarkable teamwork throughout as James, Ash and Jason eventually settled into positions of 4th, 5th and 6th after each of them endured successful battles that saw them gain places and pick their way through the field. James then made way for Ash, giving up what would've been his most successful result to date, to ensure that his teammate took the points with the checkered flag result showing Ash in 4th, James 5th and Jason 6th. There was further disappointment for the A-Plan Academy Subaru of Josh after he retired early in the race with a mechanical issue.
So, to sum up the weekend we leave Knockhill with 2 race wins, 2 second places, 2 manufacturer wins and the Team Trophy for the weekend. Ash is now sitting 2nd in the drivers' championship tables, just four points behind leader Colin Turkington. Jason has jumped up to 10th after his successful weekend with James now in 18th.
A delighted Paul Tunnicliffe, Managing Director of Subaru UK commented "After 2016's unforgettable result, when Jason Plato claimed a remarkable and emotional victory, in his 500th BTCC race, we were always quietly optimistic about our prospects this year. However, nothing could quite prepare us for what happened. Two one-twos in the opening races exceeded our wildest dreams. It's clear that the Subaru Levorg is now the car to beat, and the team has put down a marker that it intends to challenge for honours when the season concludes. At Subaru UK we could not be more excited, our current run of success has really galvanised the company, its dealers and its loyal customers. Everyone is talking about it."
Team Principal Warren Scott also shared in his joy of the weekends results commenting "I am very proud of the team for having the cars in such good form to allow the fantastic results we had this weekend, the boys have worked tirelessly to ensure that we had every possible chance to make this happen. I am also immensely happy and impressed by the performances shown by all of our drivers this weekend. To Josh for showing fantastic speed and progression to get a 7th place in race two, unfortunately to then have it taken away by a yellow flag incident, James for having his best weekend to date in the BTCC with three 5th place finishes, Ash for showing exactly why he is one of the main contenders to win the championship this year, with another 3 fantastic performances and huge congratulations to Jason on his 50th pole in very tricky conditions and converting that into a great win and a second place. What impressed me most was the great team spirit from Jason, James and the whole team who, without wavering, were all willing to compromise their own race positions in support of Ash's and Adrian Flux Subaru Racing's chances in their title bid."
Driver Quotes:
Ash Sutton: "To sum up the weekend, race one was great to lock out the front row and then for race two it was even better to be able to come out on top. To lock out the front row in qualifying and then to continue that into race one and race two was fantastic. For race three I really can't thank the team enough, what Jason and James did, to let me by, means that we have closed up that championship gap."
Jason Plato "What a fantastic weekend for Adrian Flux Racing. There are many things to celebrate…. Ash has made great strides this weekend in his quest to take the championship, James had his best weekend to date and looked super racy and on a personal note I feel a weight has been lifted from my shoulders with finding another gremlin in my car. In short, pole, front row lock out in qualifying, a double one-two in races one and two and solid points in the third race. BRAVO to everyone on the team. It's so good to be back in the game. Roll on Rockingham, there is a championship up for grabs and if I can't win it (and I can't) then it's over to you Ash. Let's all pull together and do this for everyone at the Team and our ace partners and sponsors."
James Cole "I'm very very happy and it was the best weekend in the British Touring Car Championship for me. I seem to like finishing fifth at the moment, that's the fourth in a row. I'm really happy for the team and my confidence is growing by every round. My qualifying has been the best it's been and it just shows that if you qualify in the top ten you're able to stay there and get some really good consistent point finishes. Race three was a highlight being able to race with the other two Subaru's which was good fun and playing the team game with Ash for the championship and letting him through on the last corner, in my head it was a fourth but I'll let him have that. Overall I'm really happy and we'll see what happens at Rockingham."
Josh Price "My A-Plan Academy Subaru Levorg was fast all weekend, the car felt really good and I really felt that I showed what I am capable of Knockhill. The weekend could have gone better and I am obviously very disappointed with the exclusion of the race two results which was my best result to date but overall I am pleased with my performance over both days and I am really looking forward to Rockingham."
Subaru sit 3rd in the Manufacturers standings and Adrian Flux Subaru Racing also sit 3rd in the Teams standings. Josh is 4th in the Jack Sears Trophy standings.
We return in two weeks' time to Rockingham on the weekend of the 26th and 27th August for Rounds 22, 23 and 24 of the BTCC.
To learn more about the Subaru Levorg sport tourer, visit www.subaru.co.uk/Levorg

You can also keep up with the live action by following our Facebook and Twitter pages.