Go Back
ASH DOES THE DOUBLE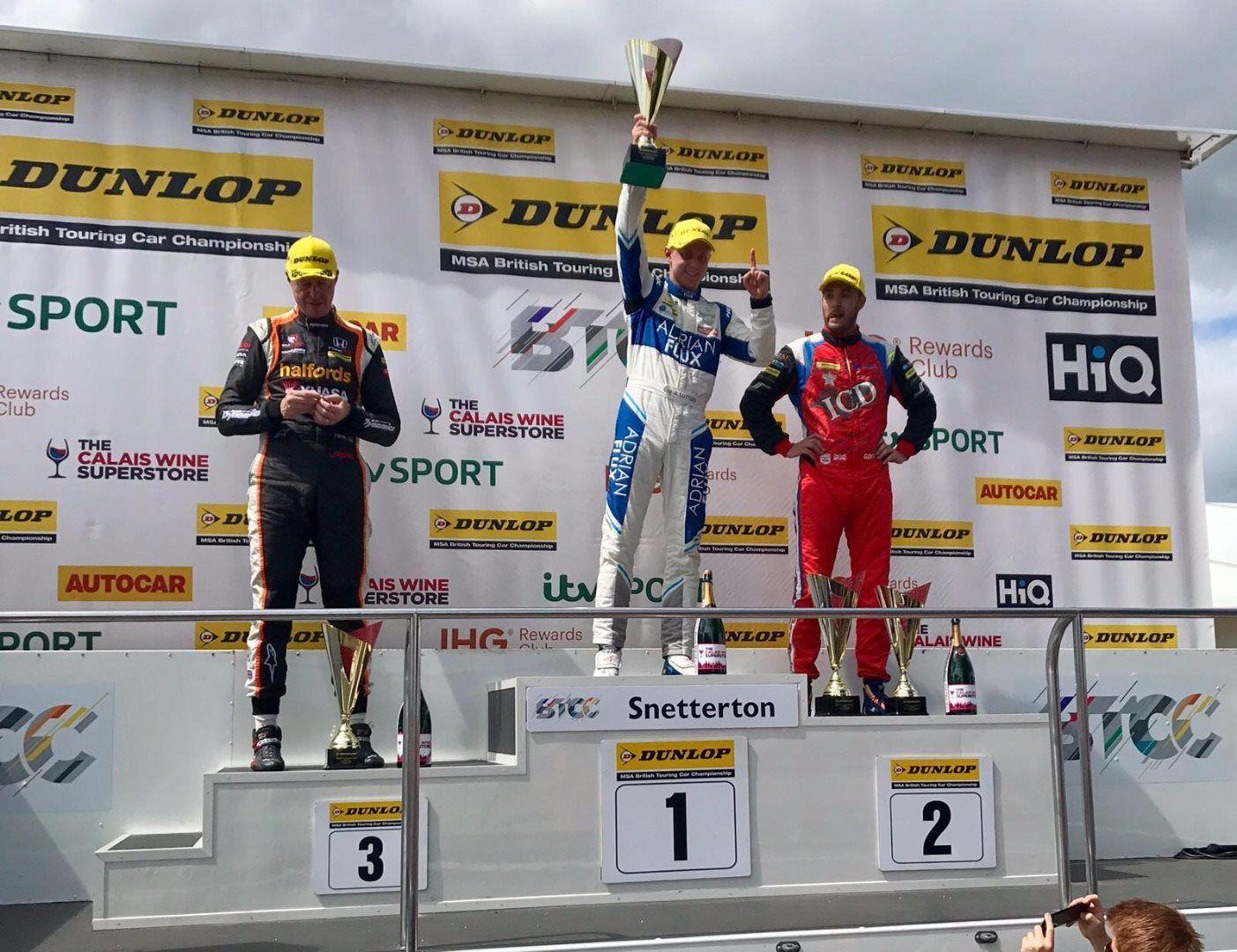 We headed to Snetterton eager to return to racing following the annual BTCC summer break, after all the BMR Racing drivers took part in the Dunlop tyre test, followed by a swap of cars between Ash and Jason during a test at Donington Park, where fresh data was gathered and analysed benefitting all four of the Subaru Levorgs.
Race One
With the lights out Ash got a great start and held his 3rd position into the first corner with Turkington taking the lead from Goff, with Jason also holding his position of 9th with Josh 12th and James 25th. Ash finally spotted a slight mistake from Goff on lap 11 as his soft tyres began to drop off and stuck his nose up on the inside to take the race lead which he then held until the checkered flag, taking his third win of the season for Adrian Flux Subaru Racing. Jason crossed the line in a well fought fifth place with teammate James also in the points in 15th. The win moved Ash two places up the championship standings into second and just two points shy of the championship leader Gordon Shedden. The two top 5 results also gave Subaru UK the manufacturer win with points being classified for the first two finishers.
Race Two
With Ash on pole for Race 2, we were hoping for more of the same albeit with him now carrying 75kg of success ballast on board.
Once again Ash made a great getaway off the line, with the lighter BMW of Jordan flying up the order to 2nd from 4th with an even lighter Jason following him up into 3rd. By turn two Jason was crawling all over the back of the BMW and made an amazing pass up the outside when he took a forceful hit from Jordan forcing the number 99 Levorg off the track and onto the grass shuffling him all the way down to 15th place and ruining his race in the process. With all of the extra weight on Ash's Levorg it was very difficult to extend his lead out in front, but with those fighting behind him for 2nd place he drove a perfect race to take a lights to flag victory and his second win of the day for Adrian Flux Subaru Racing with a gap of 3 seconds. Ash's second win of the day moved him to the top of the championship standings for the first time in his short BTCC career as Subaru celebrated their 10th victory in the series for the Subaru Levorg.
Race Three
When the lights went out for the final race of the weekend James made a good start and led until turn three as Jordan passed when, on cold tyres, a slide from the number 20 Levorg made him slow out of the corner allowing both Shedden and Collard to sneak past dropping James back to 4th. Disaster then struck for Ash when a wayward Rob Austin was forced across the grass and into the side of Ash's Levorg causing devastating damage which put an end to his race. On lap 3 James lost another place and dropped to 5th, as Jason and Josh moved up to 23rd and 24th respectively. On lap 11 there was drama for race leader Jordan as he lost power and slowed handing the win to Shedden. Jordan's demise also handed a place to James who ended the race in 5th beating his season best for the second time in as many races.
Ash's non finish moved him back to 4th in the Drivers championship albeit with a reduced gap from 20 to 11 points astray of leader Gordon Shedden, Subaru remain 3rd in the Manufacturers standings, with Adrian Flux Subaru Racing also 3rd in the Teams standings.
Driver Quotes:
Ash Sutton - "Overall Snetterton has been a positive weekend, we came into the weekend with a gap of 20 points to the championship leader and now we leave only 11 points behind, plus we are still 4th in the standings despite the race three antics. Racking up two more wins to my name as well as the first driver this season to win back to back with full success ballast was another great achievement for myself, team and sponsors. We keep on making progress with the Adrian Flux Subaru Levorg and that really showed in race two, especially whilst carrying full success ballast, the tweaks have brought the car alive and it was dialled in perfectly. The final race put a downer on the weekend and unfortunately the car took a huge hit after being a victim of an incident from behind. It is going to be a real push to get it ready for Knockhill but I have no doubt in the guys at Team BMR and WP Motorsport will make sure she is as good as new and ready for the action to unfold in Scotland!"
James Cole - "Snetterton was a weekend of mixed emotions, to start the weekend in 26th place and then come away with three point-scoring finishes is very good day. Obviously, I was disappointed to start on the front row and not to convert it to a win, but given the boost adjustment that we were dealt just before race, we did a good job. Unfortunately, it was one of those things, the cards were dealt before the start of race three and we had to race accordingly but it did mean we didn't have the same pace in the Subaru that we'd had earlier on in the day. Ash is making us all look a bit crap at the moment, so we are all having to pull our fingers out! The Subaru Levorg is a really good car when you've got it dialled into the window, and my window is a little bit narrower than Ash's. For Race two it was in my window and I was racy, and Race three it wasn't far off, but disappointingly there were other circumstances.
"I'm looking forward to Knockhill and feeling confident as it's a circuit very much like Croft and we know that the car performs well around Croft"
Jason Plato - "Well what a fantastic weekend for Adrian Flux Subaru Racing, Ash had a dream weekend with two wins, James Cole had his best result this season and we are making progress in getting to the bottom of my ill handling car. There were positive signs in the chassis after some major changes and a great result in race 2 was on the cards until I was shovelled off track by Andrew Jordan. Changes we made to the car in Race 3 gave me the best balance I have had this year so all to play for come the next race at Knockhill".
Josh Price - "We came into the weekend feeling positive due to the changes we made during the summer break and this confidence was demonstrated in FP2 and our pace in race one and two. However, the positions we gained definitely did not reflect the position we should have been in with the pace we had. This has made me feel confident as ever to get back in and push for the higher places at Knockhill."
Next time out we head north of the border to Knockhill in Scotland for rounds 19, 20 and 21 in two weeks time.

To learn more about the Subaru Levorg sport tourer, visit www.subaru.co.uk/Levorg

You can also keep up with the live action by following our Facebook and Twitter pages.