Go Back
THE SUBARU BRZ GOES FULL THROTTLE WITH PAUL COWLAND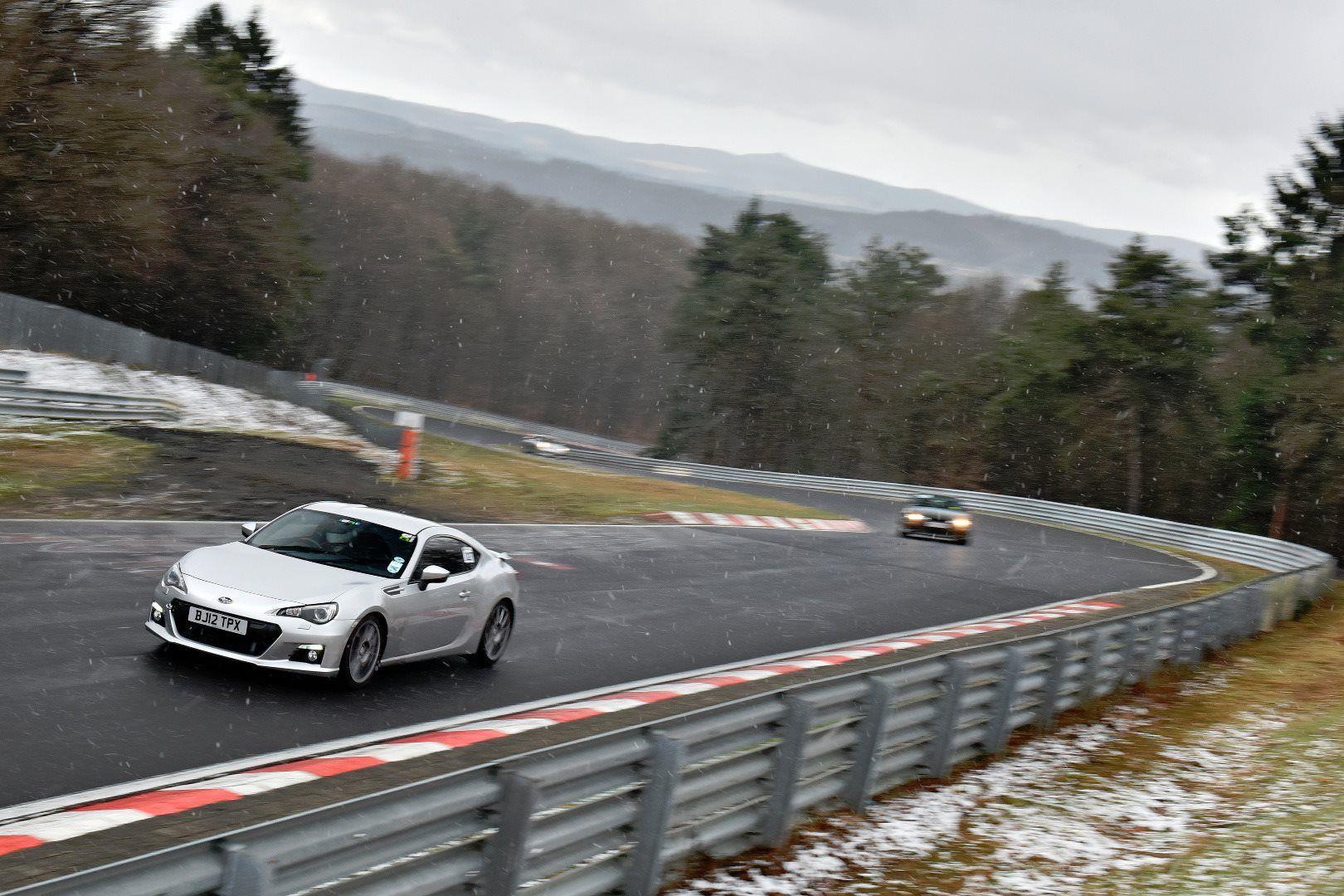 Known as the world's toughest race track, the fabled Nürburgring requires a special kind of car to truly get the most from its many twists and turns. Paul Cowland tells us about his experience when he took the BRZ around the famous track.
Renowned the world over, the Nürburgring is one amazing and simultaneously daunting place. Nicknamed 'The Green Hell' by F1 legend Sir Jackie Stewart, due to its combination of beautiful scenery and demanding corners, it's still where the world's manufacturers go to test their latest sports models – and set their impressive records.
'The Ring' is a track unlike any other, boasting vital statistics that aren't replicated anywhere else. A lap is almost 13 miles long; with elevation changes of over 1,000 feet from its highest to lowest points and 154 corners, this is a track that seemingly has its own eco-system. Covering such an enormous area, it's quite common to experience sunshine on one part of your lap and torrential rain in another. The final challenge is the lack of run-off – in many places the crash barriers are inches from the track edge. It all makes for a truly epic challenge for drivers and it's that one track that you never truly learn completely.
I have been many times before and always had a great deal of fun. On occasion I have rented race cars there, and even taken my own, but a little while back I decided I wanted to try the ultimate challenge; to drive my own road car across Europe, spend two fun packed days lapping the track – and then drive home again. Sounds easy enough, right? But when you think the round trip from home to the track and back alone was almost 1100 miles, crossing four countries in the process, then you begin to realise that it takes a certain type of car to be able to enjoy the ride both on and off the track.
My weapon of choice for the mission would be my Subaru BRZ – a car that I had already used on many track days – with hugely entertaining results. Fellow BRZ owners already know where I'm going with this, but for those of you that haven't tried one yet, it's a car that boasts handling, balance and poise far beyond its very reasonable price point. It's an unusual Subaru in that it's a rear-wheel-drive, but the telepathic responses it offers, alongside a superbly balanced chassis and peppy engine means it's the kind of car you can push to the limits all day on the track – and then drive home in soothing comfort and refinement. In that respect a typical Subaru, then!
My pan-European dash to the heart of Germany's picturesque Eifel region was dispatched in a swift 9 hour run. Having left early in the morning, I arrived in the village of Nürburg in good time to park up for the evening, meet my friends and enjoy a few glasses of the pleasing local brews.
The next morning presented a wonderful mix of weather, as promised. Light snow, rain and the occasional burst of sunshine may sound like a weatherman's nightmare, but it very much seemed to suit the eager talents of the BRZ, which proved to be the most benign companion throughout the day. Despite having been many times before, I still took my time to re-learn the track, noting the new braking and turn-in points which change every year. Sometimes it's down to re-surfacing during the off-season, causing new surfaces to come into play. Others just change from day-to-day and month-to-month. As I said, you really never truly learn this place, so a degree of respect is always due. Speaking to many drivers that have had a crash here – it's usually the day when they feel that they've 'got it'…
I pushed the BRZ for the next two days, revelling in its unmatched obedience in the corners, its brisk acceleration and smooth delivery – and above all, its neutrality when pushed. Proving to be a most flattering car in the Nürburgring's most tricky sections, it also managed to delight everyone I took out in it – often passing many other faster and more expensive cars along the way.
And the best bit? After two hugely enjoyable days, I simply filled it up with fuel – and drove home again - my trusty coupe not having missed a single beat for the whole adventure. If you're ever contemplating taking on the world's toughest track, you now know what car to take!